"

There is nothing subdued or faint about this new single titled "Whisper in the Dark" as Sophie and Alex Dorsten solidify their status as bona fide artists in this music industry. The secret is out that "Whisper in the Dark" is no joke and will make true believers out of you and I..." - Jimmy Rae
Bio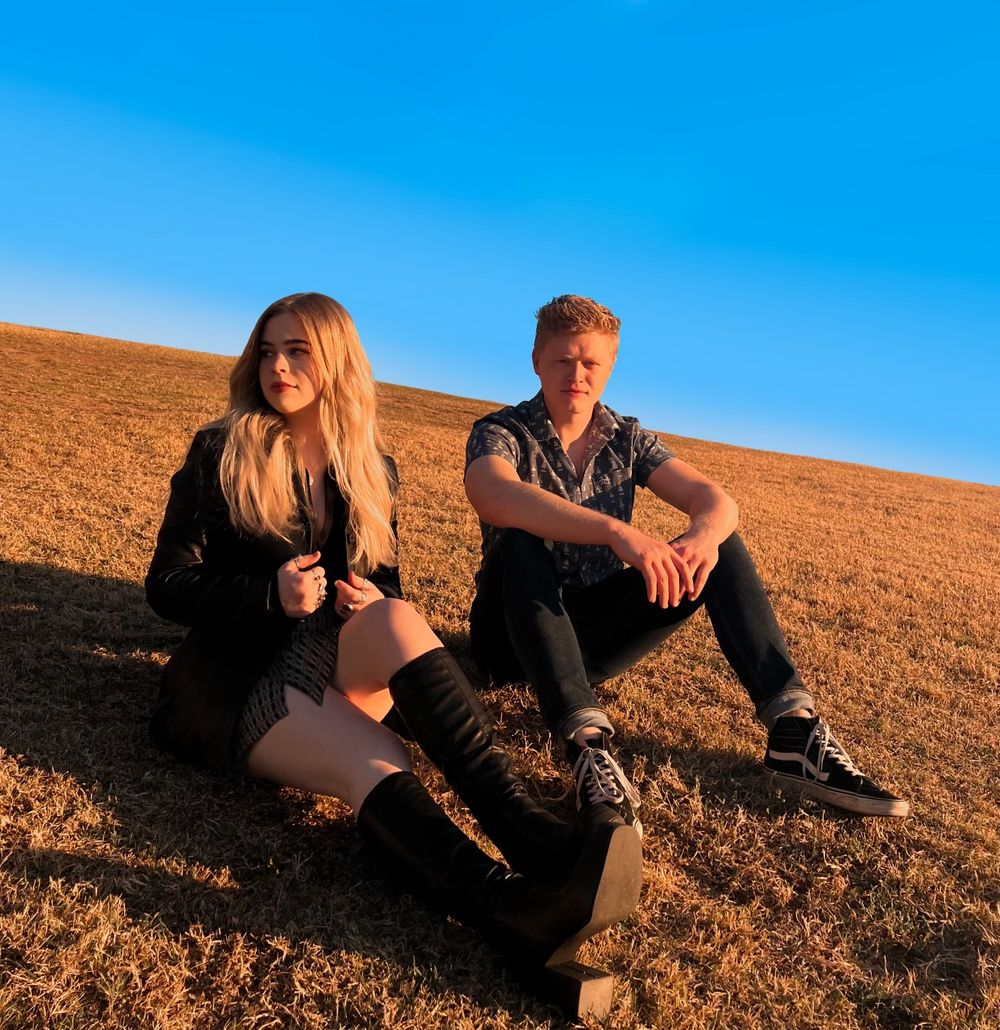 Dorsten
Americana
Award winning, international recording artist 'Dorsten' is a brother-sister Americana band from the Phoenix area.
In March 2022 Sophie and Alex had the opportunity to travel to London, England to record at both RAK Studios and Abbey Road Studios, Studio Two. Those songs are out now on all music platforms. They were also able to perform at several amazing venues in the London area. Dorsten also joined Haley Johnsen's tour in the Pacific Northwest in June 2022. Dorsten performed a 'Breaking Sound' show in Nashville at the beautiful Electric Jane in early May 2023 and then traveled back to London for an awesome week of shows at different venues with some amazing artists, all thanks to their wonderful team with WorldSound and American Artiste.
Dorsten has been performing together for years and has opened for national touring acts and at many festivals. They work well together as you can hear on their songs - the lyrics, music, creativity, and production are beyond their years.
"An ethereal voice that just pierces through the fabric of reality... ...the lyrics are nothing short of genius! Very good word play and very descriptive lyrics that easily conveys Sophie's emotions, supported by Alex's amazing production and arrangement."
Sinusoidal Music, November 2022
Sophie has been a part of Alice Cooper's Solid Rock teen center for the past several years by giving vocal lessons as well as performing at big events held. Sophie even performed back up vocals with Alice Cooper at a press release party at the teen center - what a blast! In 2023 'Dorsten' released an Alice Cooper cover 'I Never Cry' written by Alice Cooper and Dick Wagner' to honor them in the influence they've had on Sophie and Alex as artists and how much they do for the community. Dick Wagner was a huge part of our manager Warren Wyatt's life and thought it would be cool to do a cover of a song they wrote together. To have Alice Cooper quoted as saying "it's quite haunting and beautiful" was amazing!
Dorsten's music is regularly played on on-line radio around the world including Radio TFSC, Radio WigWam, Heart of Indie, OrangeHat Radio, Pluto Radio, and so many more; as well as local radio KWSS 93.9 , azlive.com and more!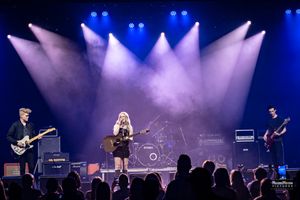 Dorsten has performed at: 
Marquee Theatre    Crescent Ballroom    Rhythm Room    Last Exit Live    PianoSmithfield, London UK    Tempe Center for the Arts EDGE Happy Hour    The Rebel Lounge    Mesa Art Center    The Van Buren     Celebrity Theatre    Valley Bar    Chandler Arts Center      Hotel Ziggy, CA - WFNM     Folklore Hoxton, London UK    Hope & Anchor, Islington UK    Season Kickoff Festival-Mesa Art Center     The Super Bowl Experience 2023    Copper Blues Live    KWSS Spring/Fall Fundraisers    Hotel Cafe, Los Angeles     Breaking Sound/The Electric Jane, Nashville    Pizza Express Live, London UK    The Listening Room    High Dive, Seattle    Mississippi Studios, Portland     Queen Creek Olive Mill     Garage-East     SoZo CoffeeHouse     Axiom Gallery     Alice Cooperstown     Duck and Decanter     Whiskey Row Gilbert     Side Pony Express Music Festival, Bisbee    The Pressroom     Postinos Gilbert     Peacock Wine Bar     Pho Cao     Tempe Marketplace     Desert Botanical Gardens    Mesa Music Fest    Tempe Festival of the Arts    Goodyear Lakeside Music Festival    The Slaughtered Lamb, London UK   Gerry's Pub - Soho, London UK     Rattlers Pre-Game Event    Hard Rock Cafe          Camden Club, Camdan UK     RAT Race event    Harvey American Public House    Tom Ryan's      Bourbon Jacks     Windmill Winery     Javalina Leap Winery      The Sandbar    The Lost Leaf     SocialBox     JoJo CoffeeHouse     The Monroe     City of Mesa Lightrail Groundbreaking     Paradise Valley Community College     ASU MU    Alice Coopers Solid Rock     Gilbert Off-Street Art Festival     OdySea Aquarium     Monterey Court - Tucson     The Farm at South Mountain     Larsen Art Gallery     Dos Gringos    Femme Fest-The Nile Underground    Market on Main   Barnone    Emerge Futures Festival-Mesa Art Center    City of Tempe Christmas Light Parade
Articles & Reviews
SOOO COOL!! Please read this article from Ed Masley, AZCentral - quotes from Alice Cooper himself on our cover of his song 'I Never Cry'
"It's always a compliment when somebody chooses to record a song that you have written and performed and then adds their own particular style to it," he told The Arizona Republic. 
"My version could be a broken-hearted guy sitting at a bar at 3 a.m. Sophie's version is much more ethereal. More like an angel sitting on a cloud brushing her hair in slow motion. It's quite haunting and beautiful." -Alice Cooper
https://www.azcentral.com/story/entertainment/music/2023/03/24/alice-cooper-i-never-cry-cover-phoenix-siblings/70039662007/
"I Never Cry" is one of the classiest covers that I've reviewed in a long time, and while it would be a lie for me to say that I didn't expect some great results from Dorsten in the lead-up to this review, I was blown away by how robustly faceted their most recent release is from start to finish. You'd be hard-pressed to find flaws within these exquisite beats and multidimensional melodies; there's just too much effort put into both the production and the execution of the material for anything else to be the case." -Garth Thomas, HollywoodDigest.com
 https://thehollywooddigest.com/dorsten-releases-classic-alice-coopers-i-never-cry/
 "...Instrumentally stimulating, cosmetically stunning, and literally the antithesis of your typical cover song, Dorsten's "I Never Cry" shines like the undisputed gem that it truly is..."
 https://www.theindiesource.com/c/ad8451b1-46dc-4c1b-ab81-18381dc07d35/
"I've listened to a lot of really good music so far this year, and without a doubt, this is one of the more cutting releases I've had the pleasure of giving a spin. Dorsten solidifies their status as a serious duo beyond the realm of the Phoenix underground here, and my gut tells me that it won't be the last hit single we hear bearing their name." -Heather Savage, Top Buzz Magazine
https://topbuzzmagazine.com/music/dorsten-releases-i-never-cry/
"The verses provide a bit of stability, Sophie's vocal becomes a beacon of light in the darkness, and by the time the song reaches a theatrical conclusion in a hail of unstoppable tonality, we've fallen under the band's spell and are left itching to play the track all over again. I've been a music critic for a long time, and though I'm a devout fan of Alice Cooper, I think that this cover of the iconic song is about as close as anyone has ever come to surpassing the aesthetical depth of the original." Gwen Waggoner, Skope Magazine
https://skopemag.com/2023/04/10/dorstens-present-i-never-cry
 "The ability to successfully cover a composition of this pedigree in itself is quite an achievement, let alone with the approval of the composing artist, but to give it the modern spin that they do here without cheapening the aesthetics of the classic is something far more impressive altogether."  -Colin Jordan, Medium.com
https://colin-jordan524.medium.com/review-dorsten-i-never-cry-single-d783278e66cc
"I Never Cry" opens on dark, plucking tones, like dead leaves dripping down, followed by the entry of Sophie's haunting, moody voice. Emerging strings imbue the tune with aching tremors as the rumbling, syncopated rhythm adds to the shadowy harmonic essence. 
On the chorus, Sophie's vocals take on Medusa-like ethereal timbres, infusing the lyrics with desolate surfaces. 
At once elegant and visceral, with "I Never Cry," Dorsten generates a spellbinding struggle between inner and outer passions.
https://www.tattoo.com/blog/dorsten-re-imagines-alice-coopers-never-cry/?fbclid=IwAR06JXvxCPrcPWTJKXdGjx1G-3-fZHI0uRZKklCB5utF4UHswiOAy3CqK8o
"On a roll since 2020, with eight popular original singles featuring their distinctive and soulful indie folk rock sound, Phoenix AZ based brother and sister duo Sophie and Alex Dorsten – now collectively known as Dorsten – shifts from their trademark acoustic vibe for their first ever cover song, a haunting, sonically immersive, electronic driven re-imagining of Alice Cooper's 1976 hit ballad "I Never Cry," dropping March 24. 
Spotlighting Sophie's ethereal soaring vocals and produced and mixed by Alex, the track was recorded as an homage to Cooper, a longtime Phoenix area resident, and the song's co-writer, the late guitarist Dick Wagner..."
https://www.einpresswire.com/article/623527558/brother-and-sister-indie-folk-rock-duo-dorsten-release-their-first-cover-of-alice-cooper-s-1976-hit-i-never-cry
This is amazing - please take a moment and read this beautiful review of 'Whisper in the Dark' by Jimmy Rae on Skope Magazine
"There is nothing subdued or faint about this new single titled "Whisper in the Dark" as Sophie and Alex Dorsten solidify their status as bona fide artists in this music industry. The secret is out and that is that "Whisper in the Dark" is no joke and will make true believers out of you and I.."
https://skopemag.com/2022/11/22/sophie-dorsten-and-alex-dorsten-with-larger-than-life-release-whisper-in-the-dark
 I wish I could just copy the whole review here so I put the first and last line - please read it all!  Thank you Sinusoidal Music!
"An ethereal voice that just pierces through the fabric of reality..." "...the lyrics are nothing short of genius! Very good word play and very descriptive lyrics that easily convey Sophie's emotions, supported by Alex's amazing production and arrangement."
https://sinusoidalmusic.com/2022/11/25/sophie-dorsten-whispers-in-the-dark-ethereal-melancholy/
Thank you so much Javier (jpgchief) for this great review! 
"The depth and emotion sung into the lines by Sophie makes the single really captivating...
To further instill the toxic and dark theme of the song, Sophie created very fitting cover art for it. Drawing inspiration from old horror and mystery novel covers, the song's cover art has everything – the vulnerable me-character out in the open, the eery surroundings and most importantly, the barely visible hooded figure with undeniably malicious intents never too far away..."
https://lessthan1000followers.com/2022/11/23/sophie-dorsten-whisper-in-the-dark/
Makes my heart so happy! Check it out! Thank you!
"We immediately appreciate the authenticity that they share, and Sophie's vocal performance is simply out-of-this-world, cohesively fused with intricate and expansive instrumentation. The duo cite Eleni Drake, Billie Eilish, From Indian Lakes, and Norah Jones as influences, although it is clear that Sophie Dorsten and Alex Dorsten are creating a sonic universe of their own..."
 https://karlismyunkle.com/2022/11/21/sophie-dorsten-and-alex-dorsten-release-intricate-and-powerful-new-single-whisper-in-the-dark/
Love this amazing review by EDMRekords - please check it out!
"Stunning, creative, soothing, and an all-around perfect song to just have on your cruising playlist, "Mountain Song" is one incredible production by these siblings that'll live on forever."
https://edmrekords.com/news/f/mountain-song-original-single-by-sophie-dorsten
A beautiful of review of 'Mountain Song' - please take a moment to read it! Thank you Nicole Mendes, The Other Side Reviews
"... Sincere, sentimental, honest and poetic, 'Mountain Song' is a sophisticated work of art. I cannot wait to hear more from the naturally talented Sophie and Alex Dorsten..." 
https://www.theothersidereviews.com/sophie-dorsten-mountain-song-2022/?fbclid=IwAR1ZJExUUYHGJS-DRwbC2W5-LMyJ7t5fYMNkh8SO5O3zqH9OWerh3JrNHL4
Awesome Press Release for our UK Tour.
"Arizona sweetheart and singer/songwriter Sophie Dorsten hits London in March. She'll lay down her sweet tones in Abbey Road & RAK studios, perform a few select shows around town and introduce herself to the UK music scene..."
https://www.prnewswire.com/news-releases/alice-coopers-protege-heading-for-abbey-road-and-rak-301490643.html?tc=eml_cleartime
Love this beautiful review of 'Mountain Song'
"...Hailing from Phoenix, Arizona where she was born and raised, Sophie Dorsten is a singer-songwriter weaving beautiful melodic indie pop vibes. Singing and making music since the age of 9, her strong emotive voice captured the hearts of all who got to hear her, and her first EP's saw light at the age of 13. Now grown up, the youthful lady has teamed up with her brother and the duo has been making and releasing music since 2020..."
Thank you Javier - "LessThan1000Followers"
https://lessthan1000followers.com/2022/08/16/sophie-dorsten-mountain-song/
 So much fun performing at High Dive in Seattle - June 11, 2022
Thank you Kirk Stauffer for the pics!
https://guitargirlmag.com/featured/sophie-dorsten-performed-at-the-high-dive-on-june-11-2022/?fbclid=IwAR2e8x6d73Pcx3TxScPEJb2W5YZxVDJS9w1yhK9jqibF3fn-H3LYUH6CtfE
 Love this review of 'Butterflies' 
'Once Sophie starts singing, you listen and get hooked in with her powerful voice & range. Sophie's voice is one amazing instrument in itself and seems to get better with each new release. Sophie's latest single is titled "Butterflies" and includes her talented brother Alex Dorsten."
https://skopemag.com/2022/02/28/sophie-dorsten-spreading-her-musical-wings-with-butterflies?fbclid=IwAR3Cg1ABvdq8Ejc5H1Qxb5CjgzA1ro9lsvbJqhGmEv5cQIwwfV0xPg6ZAoc
Thank you Joe at Indie Music Center
"There's also an innocence in Butterflies, yet it has a message that is very self-aware and mature. Perhaps that depth coming from someone still at an early stage of her career comes from how early she and Alex first got started..."
https://indiemusiccenter.com/news/sophie-dorsten-butterflies-1317
So cool! Thank you American Songwriter for including 'Red Skies' in your '100 More Songs We Absolutely Love from 2021"
https://americansongwriter.com/100-more-songs-we-absolutely-love-from-the-2021-song-contest-vol-1/
So awesome - please check out this review of 'Receipts'
"Sophie is simply singing her heart out on this new song while showcasing an amazing vocal range. Alex Dorsten plays like a seasoned professional with stellar guitar chords being strummed. This brother/sister duo has done it again and achieved greatness with their latest project called 'Receipts'..."
https://skopemag.com/2021/10/26/sophie-dorsten-with-electrifying-performance-on-receipts
Love this article from Ryan Clark, Ghost Writer 
(short quote from the awesome article)
"....Oh, this one, #TakeCoverArizona! Sophie and Alex unleash the arsenal. They pull out the stops, show you the tools, and ravage you, woo you, crush you to the floor and beg you to "just be honest, ohhhh. say that you love me… I KNOW YOU DON'T"….. and then that voice…. oh it echoes…..it lures like a Siren from the depths… just in the distance…. like a ghost distantly fading into an oubliette with the receipts from heart stains littering her wake. Alex comes in hard, making his presence pronounced, loud, and simply beautiful. Crashing chords. Understated finger picked sticatto moments, and almost a spanish lullaby close. This song just might have it all, music fans! Sophie came out of a Pandemic, nineteen, experienced, and ready to show the world she is not Just A Little Blonde Girl..."
 https://keepthegreasysidedown.com/the-golden-songbird/
Thank you Jimmy Rae for a beautiful review of Until June!
"It's an honor, privilege and blessing to get to work with the uber-talented Sophie Dorsten once again! From the first moment I heard this young, female artist I knew I was witnessing greatness in its early stages. Sophie Dorsten can do no wrong when she sings and harmonious notes come rushing out of her voice box. I've said it before and I'll say it again until I'm blue in the face, Sophie Dorsten is such a raw, pure talent with an incredibly, BIG voice!" 
 https://skopemag.com/2021/06/16/sophie-dorsten-full-of-sunshine-on-new-single-until-june?fbclid=IwAR0jjsCH754ZenEHlK7I4Bw7zOKSU0zG3KbzkebiH3WWUKM9XN-0F1SJhuo
I was so honored to be a part of Alice Cooper's series of shows to promote the auction of his Andy Warhol painting.
https://www.azcentral.com/story/entertainment/music/2021/06/09/alice-cooper-andy-warhol-painting-little-electric-chair-scottsdale/7627346002/
I love this review of Until June by Dave Franklin - Dancing About Architecture, June 9, 2021
"Until June feels like it is peak Dorsten, taking the cinematic indie vibes, the ambient dreamscapes, the pop melodicism and the expressive and thoughtful lyrics of her previous songs and weaving together a song that could probably act as a sonic resume and calling card for her as an artist."
 https://dancing-about-architecture.com/until-june-sophie-dorsten-reviewed-by-dave-franklin/
Honored to be on the Fresh Faves - Batch 408, Tobisonics,  June 8, 2021 
 "Born and raised in Arizona, indie-pop singer-songwriter Sophie Dorsten delivers a delightful dose of dulcet downbeat Americana to the FOTN inbox, latest single Until June. Until June is the young artist's third solo release, and third collaboration with her brother, Alex; with Alex taking the reins for production, orchestration, and instruments while Sophie wrote the song and sang. Swaying in gracefully percussive layers of acoustic six-strings; the track moving pendulum-like around the heavy beat of a kick drum bedded deep, giving the composition a wondrous earthy feel; backing harmonies calling out across the soundscape, haunting and melancholic. Sophie's vocals float tall in rich, toneful expanses of glorious melody, intoxicating the ear; her performance conveying the weary longing of the lyrics with great and compelling success; her voice lingering in the depth and shifting wide left/right in ambient echo, evocative of Mazzy Star in its vocal treatment. Until June avoids the gimmick and novelty of many modern productions, instead relying on a firm musical base, expressed by way of highly creditable musicality. "
https://freshonthenet.co.uk/2021/06/faves408/
 Thank you so much to our local paper - The Gilbert Sun for this article on Alex and I. June 20, 2021
Please check it out...
https://issuu.com/timespub/docs/gilbert_sun_news_0620/1?e=8633901/85893638
 Thank you so much Tim at Forkster Music Promotions for the beautiful review of Until June. May 28, 2021
"'UNTIL JUNE' by Sophie Dorsten is a colossal tune that has an astonishing melodic charm as well as a miraculously 'glowing and flowing' chill appeal."
https://www.forksterocks.net/sophie-dorsten-stunning-new-song-until-june/
I love this spotlight feature from Lean for the CoolTop20, December 11, 2020
"Sophie Dorsten (USA) is our Cool Top 20 sweetheart; she's always supportive of other artists. She's also the girl with the incredible powerful voice of an angel, and she has star potential. At just 18 years old, Sophie is a singer-songwriter talented beyond her years. Since the age of 13 Sophie has released several EP's and singles. Time to learn a little more about Sophie."
 Click here for full article....  https://t.co/T6usRddBpt?amp=1 
Thank you Rick Moore for the wonderful article in American Songwriter...
"The darling of the Phoenix-area music press, Dorsten is known for her powerful and versatile voice..."
https://americansongwriter.com/sophie-dorsten-discusses-her-new-single-reflections-and-singing-with-alice-cooper/
SOPHIE DORSTEN IS OUR INCREDIBLE WEEKLY WORDSMITH  
"Our first introduction to Sophie was through her single 'Tomorrow'. An easy listening tune featuring Sophie's ethereal vocals, beautiful harmonies and soft pianos. The track is a must listen, see for yourself..." 
Jessica Rowe, MonkJackPublishing , September 10, 2020
Thank you so much Jimmy Rae, Skope Magazine
"The first thing that comes to mind when I think of Sophie Dorsten is: BIG VOICE! This young artist from the Phoenix, Arizona area can sing with the best of them proving she has the chops to go a long way in the music business. I honestly think that Sophie could sing the alphabet and it would sound like a million bucks!
Jimmy Rae, Skope Magazine
 October 24, 2020
https://skopemag.com/2020/10/24/sophie-dorsten-standing-tall-with-babydoll?fbclid=IwAR1eoqnHst9h0m7HjxzStknHKa7lRalVezUjDfNmfHLddu7P2tthCnQLsAA
"This Arizona high school senior doesn't know what the future holds. So she put it into song"
Ed Masley, azcentral.com, May 2020
https://www.azcentral.com/story/entertainment/music/2020/05/17/arizona-high-school-senior-sophie-dorsten-new-song/3121256001/
"Tomorrow" will give you both chills and goosebumps at the same time.
Sophie Dorsten is one of the most talented singers I've ever heard in my life. Not only does she have an angelic voice, but her vocal range is hella impressive. On "Tomorrow," Sophie's upcoming single, she blooms by letting her heart bleed and by singing fearlessly.
From the moment you press play on "Tomorrow," you will be submerged in it's lively production, mind-blowing harmonies, and beautiful melodies. Additionally, you will love how Sophie pieces herself together lyrically on the song, as, throughout it, she talks about finding a way to make tomorrow a better day than yesterday by being both positive and optimistic."
QD, The Ratings Game, April 15, 2020
https://ratingsgamemusic.com/2020/04/15/sophie-dorsten-gifts-us-with-a-stunning-performance-on-tomorrow/
"This young lady, seventeen years old and a senior in high school ladies and gents, has got a sledgehammer of a voice!"  
-Ryan B. Clark, Ghost Writer, Keep the Greasy Side Down, January 30, 2020
 https://keepthegreasysidedown.wordpress.com/2020/01/29/phoenixs-rising-songbird-sophie-dorsten/
"This 16-year-old singer-songwriter has been blessed with a voice that's nothing less than spellbinding, which she uses to brilliant effect on the emotionally vulnerable ballads that make up her latest recording, a breathtaking three-song collection called "Roses." 
Ed Masley, azcentral.com, January 11, 2019 
https://www.azcentral.com/story/entertainment/music/2019/01/02/best-local-music-phoenix-maine-ajj-co-op-rhythm-room-house-party/2436123002/
"When I first heard Sophie's voice I could not believe such a mature sound came out of a 16-year-old. Blew me away. Her new EP Roses is a sampling of not just her talent in music, but also in writing. She also recently did a live version of "O Holy Night at a Proof is in the Pudding music competition that literally brought tears to my eyes (the good kind.) She plays many gigs valley-wide so plenty of opportunities to catch this rising star."  
Dani Cutler, KWSS, December 10, 2018